A California Lemon Law case is easier than you may think. A case is all based upon proper documentation. The first step in your California lemon law case is assembling the documents you will need to start your case. These include:
Lease or Purchase Agreement from selling dealer.
Current vehicle license registration.
Evidence of lien holder (bank, credit union, manufacturer's finance arm).
Repair Order Invoices for all previous warranty repair visits.
Current Repair Order if vehicle is currently in the shop undergoing repairs.
Copies of any communication you may have had with the auto manufacturer's "Customer Assistance Center".

Additionally, if you purchased your vehicle as a manufacturers "Certified Pre-Owned" with its attendant factory warranty, you will also need:

Copy of the manufacturer's CPO (Certified Pre-Owned Warranty) documents.
STEP 1. Gather and organize your paperwork/documents.

STEP 2. Decide what method to utilize to pursue your case. Please see choices below.
Choice #1 (Optimal Results)
Hire a lemon law attorney. In California, the fees the lemon law attorney bills out to your case are paid by the automobile manufacturer - not you. A lemon law attorney ensures you get your legal rights upheld, and has the power of being able to file a lawsuit - when required - a very powerful weapon in a lemon law case. To visit the website of California's largest statewide lemon law attorney firm, click here.

Choice #2 (Optional/not required in California)

Utilize non-binding arbitration. This is typically through the BBB. (Better Business Bureau). A consumer must realize that the arbitrator is hired and paid-for by the auto manufacturer. The manufacturer does not have to follow any set "rules", and can make any potential offer they want, even if it doesn't conform to California lemon law. Also, in addition to a possible denial of buyback, a "resolution" on a large portion of arbitration hearings is "the repair decision". This is no resolution at all. It is simply giving the automobile manufacturer another opportunity to work on the vehicle in an attempt to rectify the repeated problem.
Choice #3 (Optional/not required in California)

Vehicle owner makes demand upon manufacturer for repurchase. Any consumer can write or place a phone call to the automobile manufacturer and make a demand for repurchase (or replacement if vehicle was purchased/leased new) of their vehicle if they feel it's a "lemon". The manufacturer typically gives the vehicle owner a "case number". Do not confuse this with being a "lemon law case". It is only a reference number to be able to look you up when you call back. It is not a number that signifies a lemon law case. Automobile manufacturers, when working directly with consumers, are not required to follow the California lemon law statute. They can make any "offer", "settlement", or "resolution" they desire. There is also a "mileage offset" rule in California, in which the manufacturer deducts a fee for usage. Though our lemon law clearly states what that is, a manufacturer is free to "decide" what mileage offset is "correct", which can fall far short of what the California lemon law statute provides.

If you have any questions on the California lemon law statute, you will find it at this link.

What if you do not have the repair documents from all of your warranty repair visits? This gets a little tricky as the dealer has no duty to reprint/reproduce these documents for you a 2nd. time. Visiting your Service Advisor (preferably after 10:00 am and before 3:00 pm) and requesting copies is one way. The other is to request from your Service Advisor a "Warranty Repair History printout". All dealers are "linked" by computer to the factory to submit their warranty claims. They simply access this information, and it is printed out on continuous-feed printer paper. Bringing a box of fresh donuts is always a good thing to present to your Service Advisor upon your arrival - it certainly is a nice gesture.

What if you purchased what many consumers call an "extended warranty" from the dealer? Any repair invoices that were billed to the "extended warranty" instead of the factory warranty are not applicable to California Lemon Law as "repair attempts" under the statute.

The California lemon law extends out to all manufacturer's new car warranties, as well as "Certified Pre-Owned" warranties - and sometimes beyond. For more information on manufacturers warranty books explanations, and the real limits of time in which you can start a lemon law case (which in most cases you would never know).
What if your vehicle is still having the same problem(s), but the dealer cannot duplicate the issue? You can bring your vehicle to any authorized dealer for warranty work. You do not have to return to the same dealer. You have a better chance of getting a repair at the next dealer if you do not say that the other dealer could not fix it. Just start fresh with the next dealership Service Department, without reference to the other dealer.

CLICK HERE TO ENTER THIS WEBSITE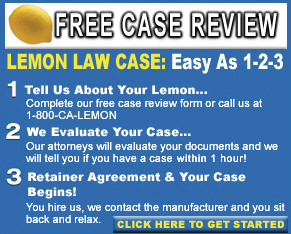 411 North Central Avenue, Su. 230
Glendale, CA. 91203
CALL US FOR INFORMATION, OR WITH
YOUR QUESTIONS: 1-818-548-6067